RedPed 3 for Bosch (Gen2, Gen3 & Gen4)
TYPE: Bosch Gen2, Bosch Gen3, Bosch Gen4
PRODUCT INFORMATION
Payment & Shipment
Comparison
Customer reviews
Warnings
PRODUCT INFORMATION
RedPed 3 for Bosch (Gen2, Gen3 & Gen4)
Probably the most comprehensive and best tuning tool for Bosch e-bikes ever, also compatible with Bosch Gen4 drives!

This tuning tool for Bosch e-bikes impresses with an extremely high range of functions, so that you can optimise your vehicle in many different ways. The RedPed 3 is a tuning module that must be permanently connected to the motor. The tuning settings can then be set conveniently using the EBT app ("RedPed - E-Bike Tuning App"). The most important core function of the RedPed 3 is, of course, the removal of the speed limit, whereby the level of maximum motor assistance can even be set to a value of one's own choosing. It is also very practical that you can set an activation code via the app, with which the tuning can be switched on and off via the control buttons of the e-bike. For this reason, it is not absolutely necessary to take the smartphone with you every time you ride the bike. In principle, it is sufficient to make the desired settings once.

Note: If you need a crank puller to open the motor, you can purchase a low-priced crank puller in a special offer here with the purchase of this module.

Frequently asked question: When will there be a RedPed 3 Gen4 for Bosch Smart System 2022 (BES3)?
Answer: We are working on it. The result will be a completely new module, as the connectors have changed completely.

Connectivity: The RedPed app has the advantage that it can display extremely diverse parameters while on the road - even more than conventional Bosch displays can offer. So it makes perfect sense to attach the mobile phone to the handlebars while riding, e.g. using special smartphone holders.

The RedPed 3 module has all the functions and advantages that were already available in the previous versions. However, there are now a few improvements that make the RedPed 3 the best model of the entire RedPed series so far. There is hardly any other tuning tool for Bosch e-bike motors that offers such a wide range of optimisation options - with this module you can really get the best out of the Bosch drives!
RedPed 3 – Functions & Features at a glance
Removal of the speed limit.
Setting the maximum speed to a self-selected value from 15-33 km/h. Optionally, the maximum speed can also be increased up to 45 km/h (Note: With Bosch Gen4 drives, you should not set the Max Speed to over 32 km/h, otherwise the integrated anti-tuning software could kick in).
Set individual activation code: The tuning can be switched on and off via the EBT app. Alternatively, you can also set a code with the app to activate/deactivate the tuning using the control buttons on the e-bike.
Even when tuning is active, the e-bike display shows the speed and distance travelled correctly.
Even after the module has been removed, the total kilometre reading is displayed correctly.
Tuning activation: Set a key combination with which you can activate and deactivate the tuning via the control elements of the e-bike. This means that you no longer need a smartphone to activate/deactivate the tuning.
"Speed Offset": You can reduce the speed shown on the display to up to -15 km/h. Example: If you set a value of -10 km/h and drive at a speed of (e.g.) 35 km/h, the display will only show a speed of 25 km/h, etc.
"Visibility": Here you can set how long the RedPed can be found in the app after the e-bike has been switched on. This prevents unauthorised access to the module.
"Troll mode": In this mode, the e-bike switches off after a self-defined time (10-60 sec) or restarts if no smartphone has connected to the module within the defined time. This function is not a real theft protection, but it can be used to annoy people who have access to the e-bike but are not actually supposed to ride it.
"Workshop mode": If this mode is set, the CAN BUS data is not manipulated by the RedPed. Very practical if you have to take the e-bike to the workshop.
"Split speed at": Here you can set how the speed is to be split.
Set the PIN to protect the RedPed from unauthorised access.
Set module name.
The wheel diameter can be entered.


Data display via app
With the EBT app, you can not only define the tuning settings, you can also display an unusually wide range of parameters. It is possible to visually adjust the displayed data according to your own preferences (change colours of certain values, hide values, etc.). Here is a selection of the most important data:
Tuning status (on/off)
Support level
Speed (current, average, maximum in one line)
Crank speed in RPM (actual, average, maximum in one line)
Crank Torque in Nm (Current, average, maximum in one line)
Rider power in watts (Current, average, maximum in one line)
Engine power in watts (current, average, maximum in one line)
Battery charge level in percent
Range in km
Driving time in minutes
Charging cycles (number)
KCAL of the driver
Distance in km (current distance travelled)
Mileage of the RedPed


RedPed - E-Bike Tuning App (EBT2 App) Download:



RedPed 3 for Bosch - innovations compared to previous versions

-The module is even smaller.
-Lower power consumption.
-There are no more jerks when using the SmartphoneHub or Cobi display.
-"Tuning Timer": With this completely new function, the tuning is automatically deactivated after a self-set time.
-"Unlock Max Speed": With the RedPed 3, the maximum supported speed can normally be set to a level of 15-32 km/h. You can also increase the maximum speed up to 45 km/h, but this function has to be activated separately via the app. The background to this is that Bosch motors from Gen4 onwards are equipped with special anti-tuning software and it cannot be ruled out that tuning could be detected at maximum supported speeds above 33 km/h.


Please note: If you have a Bosch Gen4 motor or an older Bosch drive with anti-tuning detection (from software version 1.8.4.0), and still unlock the Max Speed to 45 km/h, you do so at your own risk. If the manipulation is detected in this case (error 504), there is no more support from the manufacturer.

RedPed 3 for Bosch - Installation & Functionality
The RedPed 3 is a module that needs to be connected between the motor and the speed sensor as well as between the motor and the display. After installation, the module measures the actual speed and generates its own speed signal for the motor control unit. Since the module generates a lower speed, the preset speed limit of the engine is outsmarted. Due to this operating principle, the engine control unit will calculate various values incorrectly, such as the total distance. However, the values are corrected by the RedPed and transmitted to the display so that the correct data is still shown.

Communication between RedPed and smartphone works via Bluetooth 4.0
RedPed 3 for Bosch - Compatibility
The RedPed 3 tuning module is compatible with E-MTBs with the following drives:

Bosch Active Line
Bosch Performance Line
Bosch Performance Line CX
Bosch Cargo Line
Bosch Gen4 (model year 2020 / 2021)

Compatible with the following displays: Purion, Intuvia, Kiox, Nyon, Cobi, SmartphoneHub.

Not compatible with Bosch Smart System 2022 (BES3).

The EBT app is available for iOS and Android.

RedPed 3 Modul – Technical data
Dimensions: 4.3 x 2.3 x 0.9 cm
Cable lengths: 5cm / 7cm / 10 cm
Weight: 25 g
Power: 150mW
Supply voltage: 12 VDC
Transmitter range: 10m
Protection class: IPX4 according to EN 60529
Radio connection via Bluetooth 4.0
Made in Germany.


RedPed 3 Instruction
http://www.blackped.com/download/RedPed_3_for_Bosch_Manual.pdf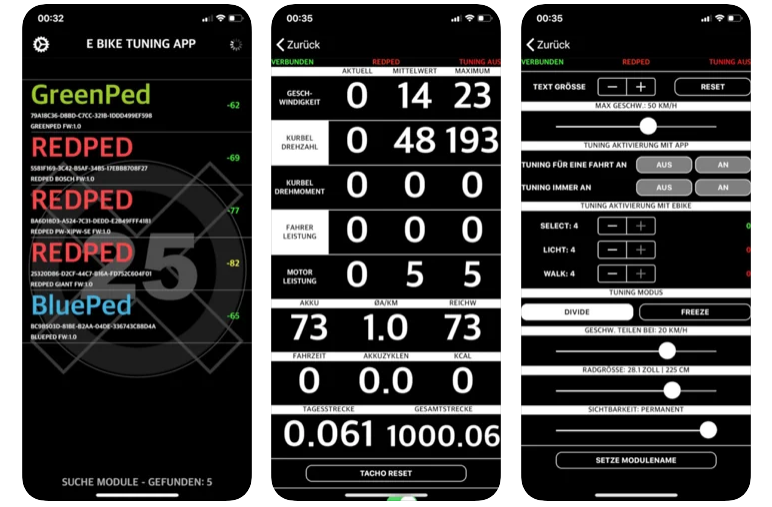 Payment & Shipment
Delivery time, Shipping costs, Minimum order value und Payment methods:
Delivery time
Delivery time is 1-8 business days within Germany. Postal delivery time outside Germany may take longer.
Shipping area
We ship to Belgium, Bulgaria, Denmark, Estonia, Finland, Germany, Greece, Ireland, Iceland, Italy, Croatia, Latvia, Lithuania, Luxembourg, Malta, Netherlands, Austria, Poland, Portugal, Romania, Sweden, Slovakia, Slovenia, Spain, Czech Republic, Hungary, Cyprus.
For shipping to Germany please use our german shop.
For a solution to Switzerland and Liechtenstein please see here.
We do not ship to the USA, France, Canada (including all overseas territories) and generally outside the EU.

Shipping costs
The shipping costs for Germany are 3,50 Euro. The shipping costs are waived from an order value of 180 Euro. For countries within the EU the shipping costs are 9,90 Euro. The shipping costs are waived from an order value of 300 Euro. We ask you to cover the cost of any return shipment yourself. Please note that customs fees may apply in third countries outside the European Union.
Minimum order value
The minimum order value is 25 Euro. Only from this amount you can use prepayment or PayPal and bank transfer as payment methods.
Maximum order value
The maximum order value for orders outside the EU is 1.000 Euro. The maximum order value within the EU is 12.500 Euro.
Payment in advance bank transfer
Please transfer the total amount with your order number to our account which you received in the confirmation email. Please note that bank transfers within Germany can take up to three working days. Transfers from abroad, especially from Austria and Switzerland, usually arrive very quickly. From other countries, transfers can take a little longer on average.
Payment in advance Paypal
At the end of the order process you will be redirected to the page of Paypal. There you can initiate your payment. As soon as the Paypal transaction is completed, the status of your order will change in the store. The goods will then be shipped as soon as possible.


Comparison
Comparison of e-bike tuning products
Type

Software
(Module)
Software
(Controller)
Box
Module
Module
Module
Module
(Kit)
Module /
Sensor
(Kit)
Module /
Dongle
Dongle
Range of functions

*****

*****

*

*****

****

***

***

***

*** / **

*

Easy installation of the tuning

*****

*****

****

**

**

**

**

** / *

** / *

*

Invisible after installation

*****

*****

*

*****

*****

*****

*****

*****

***** / ****

****

Switching on / off while riding

*


Gerät

*****


Gerät, Display

*


Box

*****


App, Display

*****


Display

*****


Display

*****


(App), Display

***


Display, Magnet

***** / ****


Display /
Dongle

****


Dongle, (Licht)

No more tuning Module at the bike

*****

*****

*****

*

*

*

*

*

* / ****

****

Invisible dismantling

*****

*****

*****

*****

*****

*****

*****

*****

***** / ***

***

Easy dismantling

*****

*****

*****

**

**

**

**

** / *

** / *

*

Correct display of km/h

*****


Display

*****


Display

*

*****


Display, App

*****


Display

*****


Display

*****


Display, App

*

****


Display

*

Dethrottling

*****

*****

*****

*****

*****

*****

*****

*****

*****

*****

Reducing

*

*****

*

*****

*****

*****

*****

*

*

*

Price range in euros

169 to
209
189 to 299
149 to 154
219 to
239
159 to 179
139 to
259
139 to
309
89 to
199
89 to
209
139 to
159
Warnings
Important: Tuning measures on e-bikes and e-scooters mean that they are no longer permitted for use on public roads. Legally permissible use is therefore only possible on private property or - if permitted - in competitions. Driving an e-bike or e-scooter modified by tuning measures on public roads can lead to criminal liability for driving without a license as well as driving without insurance coverage. Tuning measures on the e-bike and e-scooter can lead to a loss of warranty rights and manufacturer warranties. In addition, tuning measures can lead to a loss of insurance coverage and accident victim assistance benefits in the event of accidents. The e-bike (or e-scooter) modified by tuning measures is exposed to an additional load due to the higher speed, which can lead to safety risks.