Sx2 Dongle

The Sx2 Dongle - The classic dongle for many e-bike motors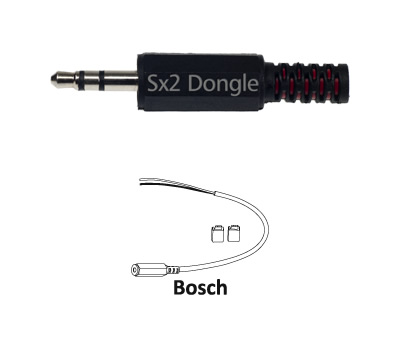 The Sx2 dongle is the classic among e-bike tuning solutions and has been on the market since 2012. With the Sx2 dongle, you can remove the 25 km/h speed limit of your e-bike and thus use the full potential of the motors. The Sx2 Tuning Dongle works with e-bikes and pedelecs with various drives from Bosch, Panasonic, Shimano, Yamaha, Impulse 1, 2 & EVO, Brose & Specialized. With this tuning tool you can make your e-bike much faster in a very simple way. As it is a plug-in solution, the tuning can be reversed at any time within a few seconds (one of the great advantages of the Sx2 dongle). You simply have to remove the dongle and the e-bike has its original riding characteristics back, so that it can be legally used on public roads again. It could hardly be simpler.

The Sx2 dongle is housed in a compact, plug-in 3.5 mm jack plug that simply needs to be connected in parallel to the speed sensor of the e-bike. By the way, you don't need separate batteries for the dongle; and there is no intervention in the motor electronics of your electric bike either. Conveniently, all riding modes are retained.

How does the Sx2 dongle work?
The functional principle of this proven tuning tool is basically very simple: After connecting the dongle, the speed of your e-bike is divided by 2 from a speed of approx. 20 km/h, whereupon only half of the actual speed is shown on the display. This removes the preset 25 km/h speed limit. The Sx2 dongle has encapsulated electronics and is therefore fully suitable for outdoor use.
Activation at the light switch:
Owners of e-bikes with Bosch and Yamaha drives can optionally select versions with an "active switch", where you can conveniently switch the Sx2 dongle on or off via the light switch:
Sx2 Dongle with active switch for Bosch Gen2 & Gen3
Sx2 dongle with active switch for Yamaha Powerdrive
If problems occur during installation - error analysis:
From time to time, problems may occur during installation. Please proceed as follows:
-Are the wires correctly connected (crimp terminals correctly pressed) or soldered?
-Were you able to measure the voltage according to the instructions (the dongle requires at least 4mA)?
-Did you measure the current according to the instructions (Important: Often only the voltage is returned!)?
-You can find out how to measure current and voltage correctly yourself in the pdf instructions on the respective product pages!
-Please check whether the dongle switches later than 25 km/h (to do this, jack up the bike and turn the pedal up to approx. 40 km/h by hand - if the display halves the speed only after 25 km/h, the dongle works in principle)!
-Please check the position of the magnet (on the spoke) and move it a few mm on the spoke (inwards and outwards)!
-If there is no solution in sight - send an email to our support with the following information:

Wheel type, inch size, dongle value, measurement results, other info photos if applicable
Sx2 dongle variants

Sx2 Dongle with cable set for Bosch Gen2 & Gen3 (from 2014)
Sx2 Dongle with active switch for Bosch Gen2 & Gen3
Sx2 Dongle with cable set for Bosch Gen1
Sx2 Dongle with active switch for Yamaha
Sx2 Dongle with cable set for Impulse 1
Sx2 Dongle with cable set for Impulse 2
Sx2 Dongle with cable set for Impulse EVO
Sx2 Dongle with cable set for Panasonic
Sx2 Dongle with cable set for Specialized Turbo Levo
Sx2 Dongle with cable set for Shimano STEPS