PearTune

PearTune MSO - High-quality e-bike tuning modules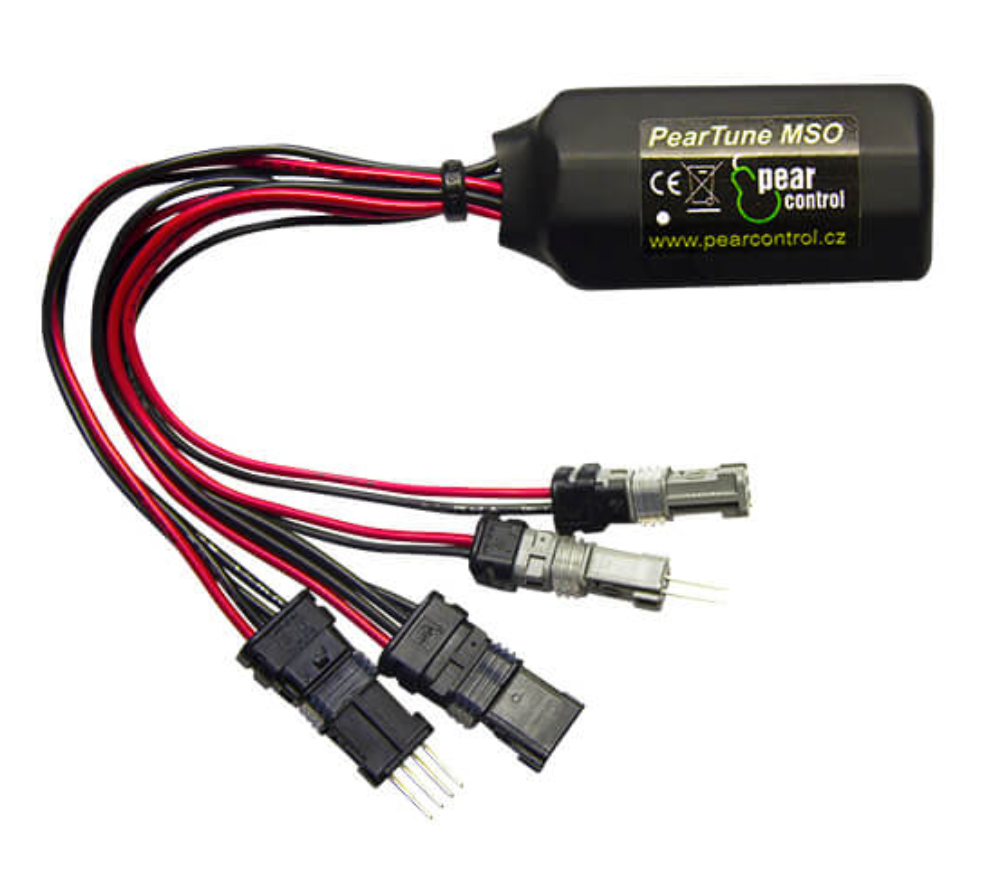 PearTune MSO (www.peartune.com) is an innovative tuning module for e-bikes, including models with Yamaha (Powerdrive and Syncdrive), Shimano, Specialized, Giant, Brose or Bosch drives (Active Line (Plus), Performance Line, CX Line & Gen4). The special feature of the PearTune is that the e-bike display continues to correctly show all data such as current speed, average and maximum speed as well as distance (except Shimano), even when tuning is active. In addition, the PearTune MSO completely removes the 25 km/h speed limit - this means that with this tuning tool you can really get the full power out of your e-bike motor! Accordingly, "MSO" stands for nothing other than "Max Speed Off". The tuning can be easily switched on or off using the buttons on the display. The PearTune MSO is a very high-quality product.

Peartune MSO 4.0 - The latest generation
In autumn 2021, the fourth generation of these popular tuning modules came onto the market: PearTune MSO 4.0. These revised versions of the modules can do everything that the previous models could do, with the core function still being the removal of the 25 km/h speed limit (with correct speed indication in the display). However, the range of functions has been considerably expanded. The most important new features are:
- For the first time, there is the option to set the level of the maximum speed of the e-bikes to an individual value. This is done using the control buttons on the display; a PC or smartphone are still not necessary.
- Chip lock function: With this original feature, the tuning can be made "invisible" to outsiders. Once the chip lock has been activated using the bike's control buttons, the e-bike and display function as they did originally. The tuning can also no longer be activated, so that outsiders cannot see that a tuning module has been installed. The chip lock can only be removed after a certain time, after which the tuning works again.

PearTune MSO 4.0 modules are currently available for: Bosch, Flyon, Brose, Yamaha, OLI, Giant, Specialized...
Instructions

The instructions are enclosed with the products.
Operating instructions PearTune for Bosch, Yamaha and Brose: PearTune for Bosch, Yamaha and Brose.pdf
Operating instructions PearTune for Shimano: PearTune for Shimano.pdf
Bosch Smart System
PearTune MSO 4.0 for Bosch Gen4 Smart System
PearTune MSO 4.0 for Bosch Smart System with crank puller
PearTune MSO 4.0 for Bosch Smart System with crank puller & holder
PearTune MSO 3.0 Still On for Bosch Gen4 Smart System
PearTune MSO 3.0 for Bosch Gen4 Smart System


Bosch Gen4
PearTune MSO 4.0 for Bosch (Gen2, Gen3 & Gen4)
PearTune MSO 4.0 for Bosch Gen4 with crank puller
PearTune MSO 3.0 for Bosch Gen2, Gen3, Gen4
PearTune MSO 3.0 for Bosch 2020 Cobi


PearTune 4 modules
PearTune MSO 4.0 for Specialized 1.1, 1.2, 1.3, 1.2E & 1.2S
PearTune MSO 4.0 for Specialized 1.1 / 1.2 SL
PearTune MSO 4.0 for Yamaha PW-X, PW-SE, PW-TE, PW-X2, PW-ST, PW-CE

PearTune MSO 4.0 for Yamaha PW-X3 & PW-S2
PearTune MSO 4.0 for Bafang M200, M300, M400 and M420 with CAN Bus
PearTune MSO 4.0 for Bafang M200, M410, M500, M510 with CAN Bus
PearTune MSO 4.0 for Giant SyncDrive Pro2 (even with RideControl Go)
PearTune MSO 4.0 for TQ HPR 50


Other modules
PearTune MSO 3.0 Tuning for Bafang M200, M300, M400 and M420 with UART
PearTune MSO 3.0 Normal for Bafang M200, M410, M500, M510 with CAN Bus
PearTune MSO 3.0 STILL ON for Bafang M200, M410, M500, M510 with CAN Bus
PearTune MSO 3.0 for Shimano EP-8
PearTune MSO 3.0 for Shimano E-Series
PearTune MSO 3.0 Still On for Shimano Di2
PearTune MSO 3.0 Normal for Shimano Di2
PearTune MSO 3.0 for Yamaha PW-X / PW-SE with DISPLAY X (2016-2018)

PearTune MSO 3.0 for Yamaha PW / Version for LED or LCD display
PearTune MSO 3.0 for Yamaha PW-X/SE/TE/X2/ST/CE Display A & C
PearTune MSO 3.0 "Normal" for Yamaha PW-X3 & PW-S2
PearTune MSO 3.0 "Still On" for Yamaha PW-X3 & PW-S2
PearTune MSO 3.0 for Specialized 2.0, 2.0E, 2.1, 2.2
PearTune MSO 3.0 NORMAL for Specialized 1.1, 1.2, 1.2E, 1.2S & 1.3
PearTune MSO 3.0 STILL ON for Specialized 1.1, 1.2, 1.2E, 1.2S & 1.3
PearTune MSO 3.0 Normal with Original Speed Sensor for Specialized 1.1 / 1.2 SL
PearTune MSO 3.0 STILL ON with Original Speed Sensor for Specialized 1.1 / 1.2 SL
PearTune MSO for Specialized 1.1 / 1.2 SL motors (from model year 2020 onwards)
PearTune MSO 3.0 "Normal" for Giant SyncDrive Pro2 (even with RideControl Go)
PearTune MSO 3.0 "StillOn" for Giant SyncDrive Pro2 (even with RideControl Go)
PearTune MSO 3.0 for Giant Revolt E+ with EP8 Di2
PearTune MSO 3.0 for Giant 2017-2022
PearTune MSO 2.0 for Giant Syncdrive C 2015 & 2016
PearTune MSO for Brose with original Brose plugs
PearTune MSO for OLI Sport & Move motors
PearTune MSO Still On for Haibike Flyon / TQ
PearTune MSO for Haibike Flyon / TQ
PearTune MSO 3.0 Normal for TQ HPR 50

PearTune MSO 3.0 Still On for TQ HPR 50
PearTune MSO for Panasonic GX0, GX Ultimate & PowerPlus