BluePed for Yamaha Powerdrive
PRODUCT INFORMATION
Payment & Shipment
Comparison
Customer reviews
Warnings
PRODUCT INFORMATION
BluePed: Tuning module for e-bikes with Yamaha PW mid-mounted motors
BluePed is an innovative tuning module exclusively for e-bikes with Yamaha Powerdrive motors (manufacturers: Haibike, Bulls...). The BluePed removes the 25 km/h speed limit so that you can ride much faster with full motor support. Even when tuning is activated, the LCD or LED display continues to show the correct speed values. You have the option of conveniently controlling the module via a practical smartphone app (Android & iPhone) - e.g. you can set the level of maximum motor support to an individual value as you wish. Thanks to the (free) BluePed app, this Yamaha tuning tool gives you significantly more setting options than most comparable tuning devices.

Another very practical feature is that you can display an unusually large number of parameters on your smartphone while riding via the BluePed app, which far exceed the scope of the Yamaha display (see below). Tip: To ensure that you always have a good view of your smartphone display while riding, the BluePed module can be supplemented with the practical FINN universal smartphone holder for the handlebars.

The BluePed module can be switched on at any time via the light switch of your Yamaha e-bike (alternatively: "Mode: HIGH"). The original function of the light switch remains unchanged.

Operating instructions

Important note: In principle, you only need the BluePed app to define the settings of the module. These settings will be saved automatically, so that you can use the BluePed Tuning Tool completely without your smartphone. So you don't need to take your smartphone with you every time you want to go for a ride on your e-bike. Of course, you can adjust the settings of the BluePed module at any time or cancel the tuning completely.

The installation of the BluePed module is quite simple and straightforward. Note: Since no cables have to be damaged during installation, you can restore your e-bike to its original condition at any time.
With which e-bikes is the BluePed module compatible?
- E-bikes with Yamaha PW motors from 2015, e.g. Bulls or Haibike.
- The decisive factor is that your e-bike must have the Yamaha LCD display or LED display shown here (in the 2016 version, the control element also has a micro USB output).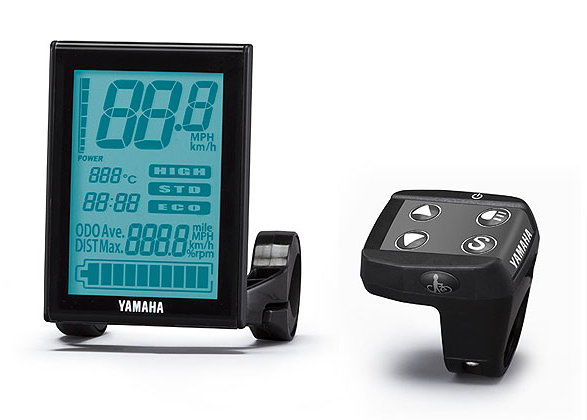 - Smartphone Android from 4.4 or iOS from 9.2
- For pedelecs with 25 km/h limit, not suitable for s-pedelecs.
What data does the BluePed app display?
The big advantage of the BluePed Tuning Tool is that your Yamaha display shows all values (e.g. current speed etc.) correctly. However, we would still like to recommend the BluePed app to you, as it shows much more data than the Yamaha display - see for yourself:

- Current speed
- Maximum speed
- Average speed
- Current distance travelled
- Total distance covered
- Travel time
- Range (remaining kilometres with motor support)
- Battery status
- Conversion from km/h to mph only in the app
- Current battery charge level in percent divided by Ø per KM (B-Reichw.)
- RPM (current cadence)
- Average RPM (ØRPM)
- Maximum RPM (MRPM)
- Support level (STD)
- Current power (PWR)
- Average power (ØPWR)
- Percentage of battery per KM travelled (% per KM)
- Average value from the last 5 KM (Ø % per KM)

Of course, you can reset the values to 0 at any time.

Tip: If you want to uninstall the BluePed Tuning Tool at some point, you can calculate the actual total kilometres with the function "Balance total kilometres".

Important: If you have an e:i Shock system on your e-bike, activation via the light button will not work.

The BluePed module was designed to make installation in the Yamaha motor as uncomplicated as possible. The communication between the smartphone app and the BluePed module works wirelessly via Bluetooth 4.0.
Scope of delivery
- BluePed Tuning Module
- Installation instructions for installing the module in the engine via PDF / Operating instructions for the BluePed Smartphone App via PDF: BluePed_Instruction.pdf (1.3 MB)

Recommended accessories (optional)

- Stylish FINN smartphone universal holder for your steering wheel.
- Charging cable (Micro USB to Micro USB or Micro USB to Lightning). With the charging cable you can charge your smartphone while riding your e-bike (does not work with all smartphones).
- The Sminno Cesa Cruise universal hands-free kit for e-bikes.
Smartphone App
Redped - E-Bike Tuning App (EBT2 App) Download:
Available for Android or iOS.

iPhone: Requires iOS 11.0 or newer


---
Payment & Shipment
Delivery time, Shipping costs, Minimum order value und Payment methods:
Delivery time
Delivery time is 1-8 business days within Germany. Postal delivery time outside Germany may take longer.
Shipping area
We ship to Belgium, Bulgaria, Denmark, Estonia, Finland, Germany, Greece, Ireland, Iceland, Italy, Croatia, Latvia, Lithuania, Luxembourg, Malta, Netherlands, Austria, Poland, Portugal, Romania, Sweden, Slovakia, Slovenia, Spain, Czech Republic, Hungary, Cyprus.
For shipping to Germany please use our german shop.
For a solution to Switzerland and Liechtenstein please see here.
We do not ship to the USA, France, Canada (including all overseas territories) and generally outside the EU.

Shipping costs
The shipping costs for Germany are 3,50 Euro. The shipping costs are waived from an order value of 180 Euro. For countries within the EU the shipping costs are 9,90 Euro. The shipping costs are waived from an order value of 300 Euro. We ask you to cover the cost of any return shipment yourself. Please note that customs fees may apply in third countries outside the European Union.
Minimum order value
The minimum order value is 25 Euro. Only from this amount you can use prepayment or PayPal and bank transfer as payment methods.
Maximum order value
The maximum order value for orders outside the EU is 1.000 Euro. The maximum order value within the EU is 12.500 Euro.
Payment in advance bank transfer
Please transfer the total amount with your order number to our account which you received in the confirmation email. Please note that bank transfers within Germany can take up to three working days. Transfers from abroad, especially from Austria and Switzerland, usually arrive very quickly. From other countries, transfers can take a little longer on average.
Payment in advance Paypal
At the end of the order process you will be redirected to the page of Paypal. There you can initiate your payment. As soon as the Paypal transaction is completed, the status of your order will change in the store. The goods will then be shipped as soon as possible.


Comparison
Comparison of e-bike tuning products
Type

Software
(Module)
Software
(Controller)
Box
Module
Module
Module
Module
(Kit)
Module /
Sensor
(Kit)
Module /
Dongle
Dongle
Range of functions

*****

*****

*

*****

****

***

***

***

*** / **

*

Easy installation of the tuning

*****

*****

****

**

**

**

**

** / *

** / *

*

Invisible after installation

*****

*****

*

*****

*****

*****

*****

*****

***** / ****

****

Switching on / off while riding

*


Gerät

*****


Gerät, Display

*


Box

*****


App, Display

*****


Display

*****


Display

*****


(App), Display

***


Display, Magnet

***** / ****


Display /
Dongle

****


Dongle, (Licht)

No more tuning Module at the bike

*****

*****

*****

*

*

*

*

*

* / ****

****

Invisible dismantling

*****

*****

*****

*****

*****

*****

*****

*****

***** / ***

***

Easy dismantling

*****

*****

*****

**

**

**

**

** / *

** / *

*

Correct display of km/h

*****


Display

*****


Display

*

*****


Display, App

*****


Display

*****


Display

*****


Display, App

*

****


Display

*

Dethrottling

*****

*****

*****

*****

*****

*****

*****

*****

*****

*****

Reducing

*

*****

*

*****

*****

*****

*****

*

*

*

Price range in euros

169 to
209
189 to 299
149 to 154
219 to
239
159 to 179
139 to
259
139 to
309
89 to
199
89 to
209
139 to
159
Warnings
Important: Tuning measures on e-bikes and e-scooters mean that they are no longer permitted for use on public roads. Legally permissible use is therefore only possible on private property or - if permitted - in competitions. Driving an e-bike or e-scooter modified by tuning measures on public roads can lead to criminal liability for driving without a license as well as driving without insurance coverage. Tuning measures on the e-bike and e-scooter can lead to a loss of warranty rights and manufacturer warranties. In addition, tuning measures can lead to a loss of insurance coverage and accident victim assistance benefits in the event of accidents. The e-bike (or e-scooter) modified by tuning measures is exposed to an additional load due to the higher speed, which can lead to safety risks.