New
-10%
PRE ORDER
OUT STOCK
Badass Box 4 for Bosch e bike motors
TYPE: Bosch Gen1, Bosch Gen2, Bosch Gen3, Bosch Gen4
PRODUCT INFORMATION
Payment & Shipment
Comparison
Customer reviews
Warnings
PRODUCT INFORMATION
Badass Box 4 for Bosch e-bikes (Gen1, Gen2, Gen3 & Gen4)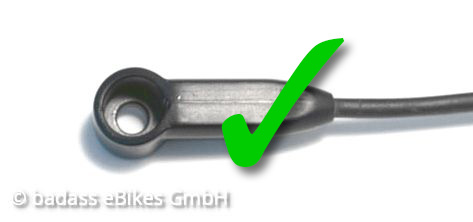 This Badass Box 4 is only compatible with the Bosch sensor shown above.

The latest and best badass box for e-bikes with Bosch mid-mounted motors, compatible with most old Bosch motors and even the new Bosch 2020 / Gen4 drives. This tuning tool completely removes the 25 km/h speed limit so that you can finally get the full power out of your Bosch motor. Of course, the tuning can be cancelled at any time and the e-bike returned to its original condition.
How it works
After installation and mounting, the Badass Box 4 transmits a modified signal to the motor so that the 25 km/h speed limit is completely removed. This is done contact-free without any electrical connection to the engine, damage to the drive is impossible.

Important note: When tuning is activated (box plugged in), the e-bike display will functionally show an incorrect speed (also applies to values derived from this). To determine the real speed, we recommend using a GPS-based additional device (smartphone, bike computer, etc.).
The best Badass Box ever
The most important innovations in the Badass Box V4 for Bosch are a new, slimmer housing with a patented snap lock, which makes it even easier to put on and take off the box (the snap lock replaces the O-ring of the previous version). Thanks to the slimmer design, it is no longer possible to fit the box too tightly. Now the Badass Box can be plugged in or unplugged in no time at all with just one hand, allowing the tuning to be switched on or off at any time. In addition, the range has been significantly increased (7,000 km) and the box is now even more robust thanks to special potting compound from the automotive industry. By the way, at the special request of the customer, an optional fastening safety device has been provided by means of cable ties on the snap lock.

The previous CR2 battery has been replaced by a new AAA battery that only needs to be changed every 7,000 km or after 1 year (due to battery discharge). The high range is made possible by the specially developed field enhancement technology FEET ("Field Enhancement & Elimination Technology"). Of course, the battery can be changed at any time - AAA batteries can be bought cheaply on practically every corner. You can easily replace the battery yourself, no tools are needed.

Thanks to a special potting compound, the Badass Box 4 is now also optimally protected against moisture and mechanical stress.

Each Badass Box 4 is tested for correct function before and after potting.

This tuning tool is a quality product made in Germany.
Badass Box 4 for Bosch - The most important info at a glance:
- Contactless e-bike tuning, the 25 km/h speed limit of Bosch motors is completely removed.

- Patented snap lock allows the box to be plugged in and unplugged within a few seconds.

- Badass Box attached & spoke magnet moved: Tuning activated - the 25 km/h limit of the motor support is lifted.

- Badass Box removed and spoke magnet moved back to original position: Tuning cancelled, motor support then stops again, as usual, at 25 km/h.

- 1.5V AAA battery (IEC R03) with more than 7,000 km range thanks to patented field reinforcement technology.

- Potting compound from the automotive industry ensures greater robustness and protects against moisture.

- Dimensions: 61 x 43 x 15 mm

- Weight: Badass Box 27g (with battery 37g)
Badass Box 4 for Bosch - Compatibility
E-bikes with Bosch mid-range motors: Classic Line, Active Line, Performance Line, CX Line & Active Line Plus. Also compatible with Bosch Gen4 (model year 2020 / 2021).

Attention, the badassBox 4 Bosch is only compatible with the Bosch sensor shown above.

Not compatible with Bosch Smart System 2022 (BES3)!
Badass Box 4 for Bosch - Installation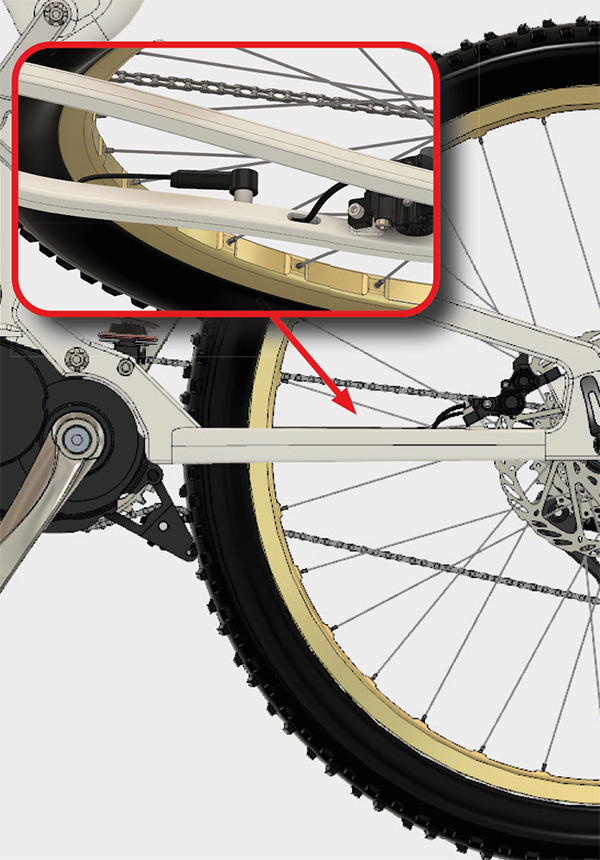 The installation of the Badass Box 4 is easy and can be done by yourself - it is not necessary to open the engine in a complicated way. The box simply needs to be fitted over the Bosch speed sensor next to the rear wheel. As soon as the snap lock engages, the box is securely fastened. Additional (optional) securing via cable ties is also possible.

We recommend replacing the spoke magnet screw with the supplied Toolfree screw during initial assembly. This allows for future relocation without the need for tools. After the Badass Box has been placed on the sensor, the spoke magnet must be moved - towards the edge of the housing in the direction of the snap lock. When the spoke magnet touches the Badass Box, the spoke magnet has to be placed as close as possible to the Badass Box and turned by 90° - that's it, the installation is finished!

To remove the tuning, simply pull off the box and move the spoke magnet to its original position - thanks to the Toolfree screw, this can be done in seconds, without any tools.
Scope of delivery
- Badass Box V4 for Bosch
- AAA battery
- Toolfree 4 mm screw

Please note: It is not permitted to use the Badass Box 4 on public roads or within the scope of the German Road Traffic Licensing Regulations (StVZO). This tuning tool may only be used on private property or for competition / testing purposes. If you install the Badass Box on your e-bike / pedelec, the warranty of your electric bike may expire. Use this tuning tool at your own risk and peril.
Payment & Shipment
Delivery time, Shipping costs, Minimum order value und Payment methods:
Delivery time
Delivery time is 1-8 business days within Germany. Postal delivery time outside Germany may take longer.
Shipping area
We ship to Belgium, Bulgaria, Denmark, Estonia, Finland, Germany, Greece, Ireland, Iceland, Italy, Croatia, Latvia, Lithuania, Luxembourg, Malta, Netherlands, Austria, Poland, Portugal, Romania, Sweden, Slovakia, Slovenia, Spain, Czech Republic, Hungary, Cyprus.
For shipping to Germany please use our german shop.
For a solution to Switzerland and Liechtenstein please see here.
We do not ship to the USA, France, Canada (including all overseas territories) and generally outside the EU.

Shipping costs
The shipping costs for Germany are 3,50 Euro. The shipping costs are waived from an order value of 180 Euro. For countries within the EU the shipping costs are 9,90 Euro. The shipping costs are waived from an order value of 300 Euro. We ask you to cover the cost of any return shipment yourself. Please note that customs fees may apply in third countries outside the European Union.
Minimum order value
The minimum order value is 25 Euro. Only from this amount you can use prepayment or PayPal and bank transfer as payment methods.
Maximum order value
The maximum order value for orders outside the EU is 1.000 Euro. The maximum order value within the EU is 12.500 Euro.
Payment in advance bank transfer
Please transfer the total amount with your order number to our account which you received in the confirmation email. Please note that bank transfers within Germany can take up to three working days. Transfers from abroad, especially from Austria and Switzerland, usually arrive very quickly. From other countries, transfers can take a little longer on average.
Payment in advance Paypal
At the end of the order process you will be redirected to the page of Paypal. There you can initiate your payment. As soon as the Paypal transaction is completed, the status of your order will change in the store. The goods will then be shipped as soon as possible.


Comparison
Comparison of e-bike tuning products
Type

Software
(Module)
Software
(Controller)
Box
Module
Module
Module
Module
(Kit)
Module /
Sensor
(Kit)
Module /
Dongle
Dongle
Range of functions

*****

*****

*

*****

****

***

***

***

*** / **

*

Easy installation of the tuning

*****

*****

****

**

**

**

**

** / *

** / *

*

Invisible after installation

*****

*****

*

*****

*****

*****

*****

*****

***** / ****

****

Switching on / off while riding

*


Gerät

*****


Gerät, Display

*


Box

*****


App, Display

*****


Display

*****


Display

*****


(App), Display

***


Display, Magnet

***** / ****


Display /
Dongle

****


Dongle, (Licht)

No more tuning Module at the bike

*****

*****

*****

*

*

*

*

*

* / ****

****

Invisible dismantling

*****

*****

*****

*****

*****

*****

*****

*****

***** / ***

***

Easy dismantling

*****

*****

*****

**

**

**

**

** / *

** / *

*

Correct display of km/h

*****


Display

*****


Display

*

*****


Display, App

*****


Display

*****


Display

*****


Display, App

*

****


Display

*

Dethrottling

*****

*****

*****

*****

*****

*****

*****

*****

*****

*****

Reducing

*

*****

*

*****

*****

*****

*****

*

*

*

Price range in euros

169 to
209
189 to 299
149 to 154
219 to
239
159 to 179
139 to
259
139 to
309
89 to
199
89 to
209
139 to
159
Warnings
Important: Tuning measures on e-bikes and e-scooters mean that they are no longer permitted for use on public roads. Legally permissible use is therefore only possible on private property or - if permitted - in competitions. Driving an e-bike or e-scooter modified by tuning measures on public roads can lead to criminal liability for driving without a license as well as driving without insurance coverage. Tuning measures on the e-bike and e-scooter can lead to a loss of warranty rights and manufacturer warranties. In addition, tuning measures can lead to a loss of insurance coverage and accident victim assistance benefits in the event of accidents. The e-bike (or e-scooter) modified by tuning measures is exposed to an additional load due to the higher speed, which can lead to safety risks.